Giant neptune beetle
This huge beetle is part of the family of rhinoceros beetles. I decided to experiment with colour changing to produce a more attractive model. This base ins't particularly inspiring - it is a simple variation of a blintz frog base, but it works quite well with foil backed paper.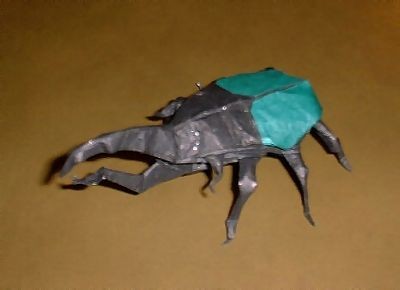 ---
Designer : Designed and folded by myself, Copyright 2004
Paper : Homemade foil-backed paper
Diagrams : None available
Crease pattern : None available

Please note : Unless I have indicated above, diagrams and crease patterns do not exist for this model. Please do not email me requesting them.