Sexton beetle
This model is quite similar to the bluebottle, although much more paper is used to create the body. As well as outer wings, I have been able to create a pair of inner wings, which just stick out from under the orange shell.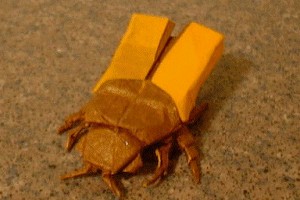 ---
Designer : Designed and folded by myself, Copyright 2004
Paper : One uncut square of foil-backed paper
Diagrams : None available
Crease pattern : None available

Please note : Unless I have indicated above, diagrams and crease patterns do not exist for this model. Please do not email me requesting them.