Buebottle fly
The base for this model was based on Lang's Cicada. I discoved that the flaps created on this model were quite easy to change colour on, and the fly soon started to fold itself. The legs were always a problem. Over the space of about a year, their shape evolved into the one seen above, which works quite well.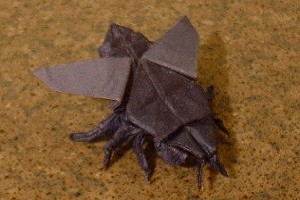 ---
Designer : Designed and folded by myself, Copyright 2004
Paper : One uncut square of foil-backed paper
Diagrams : None available
Crease pattern : None available

Please note : Unless I have indicated above, diagrams and crease patterns do not exist for this model. Please do not email me requesting them.