Atlas beetle 2004
I have created a novel base for this model which has a nice, efficient folding sequence. I suppose I could make the junction between the thorax and abdomen thinner, or perhaps the abdomen thicker. However, this would greatly increase the number rather low number of steps to fold this beetle, compared to other beetles on this page.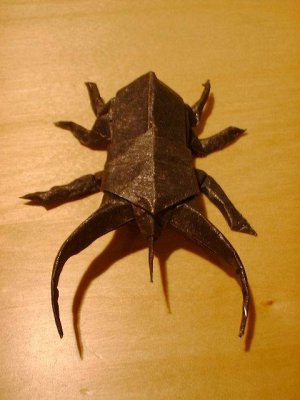 ---
Designer : Designed and folded by myself, Copyright 2004
Paper : One uncut square
Diagrams : None available
Crease pattern : None available

Please note : Unless I have indicated above, diagrams and crease patterns do not exist for this model. Please do not email me requesting them.