Harlequin beetle
This model was created for one of the Monthly folding challenges on the Origami forum. Two edges of the paper are divided to space the antenna and the long front legs equally, with the rest of the edges used to shape the remaining four legs. A spare flap of paper allows for the top half colour change, and some box-pleating, with a few closed sinks, allows for the overall shape of the body.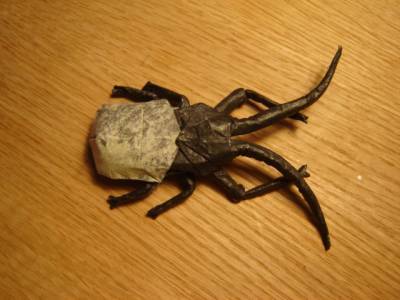 ---
Designer : Designed and folded by myself, Copyright 2006
Paper : One uncut 25cm square
Diagrams : None available
Crease pattern : None available

Please note : Unless I have indicated above, diagrams and crease patterns do not exist for this model. Please do not email me requesting them.