Hercules beetle
The base is not particularly original for this model. It is a blintz frog base. However, by dividing one of the flaps into thirds and wrapping around a lot of the spare paper, I have created a nice colour-change to work with. By shaping two of the internal flaps into antenna and box-pleating most of the internal layers, I get a nice form with long, thin legs.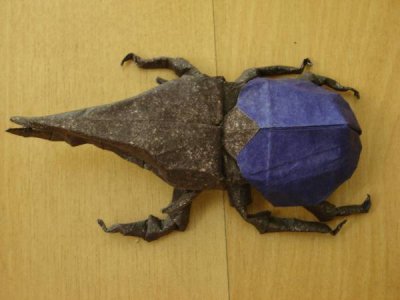 ---
Designer : Designed and folded by myself, Copyright 2005
Paper : One uncut 25cm square for foil-backed paper
Diagrams : None available
Crease pattern : None available

Please note : Unless I have indicated above, diagrams and crease patterns do not exist for this model. Please do not email me requesting them.