Horse
I have designed this closed back horse to try to make maximum use of the paper, without becoming too complex. Having seen Robert Lang design a stallion with the tail not located at a corner or edge, I felt I'd take a similar approach. The model has nice long limbs and can be wetfolded.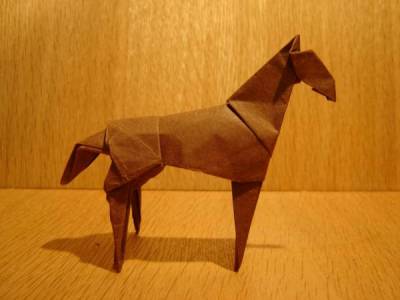 ---
Designer : Designed and folded by myself, Copyright 2004-2007
Paper : One uncut square
Diagrams : Click here
Crease pattern : None available

Please note : Unless I have indicated above, diagrams and crease patterns do not exist for this model. Please do not email me requesting them.